Dentist in Bamberg, SC
All our professionals at Bamberg Dentistry maintain the highest levels of accreditation and pursue ongoing education to stay abreast of the latest trends in dentistry.
Earl B. Hartzog, DMD, PA

Dr. Earl Hartzog is the owner of Bamberg Dentistry.
Dr. Earl Hartzog, a 2009 graduate of the MUSC School of Dentistry. Denmark Dentistry was purchased from the estate of Dr. Samuel Broughton Baker, Jr. Bamberg Dentistry was opened in 2011 when Dr. Hartzog purchased and consolidated the practices of Dr. E. Gary Jeffords and Dr. Allen Webb. Drs. Baker, Jeffords, and Webb operated their respective practices for over 30 years providing the exemplary type of dental care, commitment to community, and caring expected from dental practices in rural communities. Dr. Hartzog is committed to building on the legacy of excellence established by these doctors providing the communities of Bamberg, Denmark, and surrounding areas with dental care that sets the standard for caring and meeting the needs of all patients that grant this facility the honor of providing them with dental care services.
Dr Hartzog has incorporated Oral Surgery and Orthodontic specialists services into the practice of Bamberg Dentistry to allow patients to receive care from these specialties without having to travel to other communities for treatment. These specialists include Dr. Drane Oliphant, DMD, MD (oral surgeon) and Dr. Dawes Edwards, DMD, MS (orthodontist).
Shelly Catlett, DMD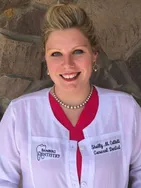 Dr. Shelly Catlett is a local native, born and raised in Cope, SC. She graduated at the top of her class from Edisto High School and graduated magna cum laude with honors from Coker College. Dr. Catlett played NCAA collegiate softball during her four years there. After completing college Dr. Catlett attended the Medical University of South Carolina and graduated in 2013. After dental school, Dr. Catlett was excited to return home to her community to serve the people who supported her dreams and endeavors. She resides in her hometown of Cope with her "furbaby", a mini-schnauzer named Riggs. When she is not restoring smiles, she enjoys spending time with family, taking care of flowers and travelling to new horizons.
Dr. Santana Jones
Dr. Santana Jones has been practicing dentistry for 5 years. She is a native of South Carolina and attended undergrad at The University of South Carolina in Columbia, SC. Dr.Jones obtained her Doctoral Degree in Dentistry from Meharry Medical College in May 2016. Since graduating dental school, Dr.Jones has been practicing general dentistry with children. She is a member of the American Dental Association (ADA), South Carolina Dental Association (SCDA) and the American Academy of Pediatric Dentistry (AAPD). Dr.Jones has a special way of using her passion in dentistry to connect with children as she provides their dental care. Dr.Jones is extremely passionate about dentistry and children. She is very caring and patient, with her 'little patients'. When Dr.Jones is not in the office practicing dentistry she enjoys running, golfing, shopping and reading. Dr.Jones is honored to provide exceptional dental care to the children of South Carolina.